SWIFT 911 Emergency
Notifications to add or update
your cell, work, . . .
unlisted phone number, and
email to Village's automatic
notificaton system . . .
Access Village Website
www.rvcny.us

TO REPORT POLICE and MEDICAL
EMERGENCY
CALL 911
TO REPORT
NON - EMERGENCY POLICE MATTER
CALL 516-766-1500
TO REPORT
ELECTRIC OUTAGE
CALL 516-766-5800
Senator Skelos' Golden Gathering
Oct. 24 9 AM - 12 Noon
RVC Rec Ctr 516-678-9338 or 9339
FREE Homework Assistance
Grades 1-5 Monday - Wednesday
RVC Library 3:30 PM - 5:30 PM
NEW Youth Performance Arts
Workshop Nov. 16 11 AM - 2 PM
OPEN HOUSE at Molloy College
South Side High School PTA
Holiday Boutique November 6th
128 Shepherd Street
SSHS Post Prom "Night of
Shopping" Boutique Nov. 6
6 PM - 9 PM SSHS Gym
Free Halloween Fun Fest
Oct. 25 11 AM - 2 PM
Molloy College/Madison Theatre
"The Kids are the Stars"
SSMS Drama Club Nov.14 4:30 PM
Nov. 15 7:30 PM 255-8925
"The Diary of Anne Frank"
Nov. 19 and 22 7:30 PM
SSHS 255-8925
Adam Brakel, Guest Organist
Oct. 24 7:30 PM St. Agnes
Cathedral 764-9578 X203
Halloween Mural Painting Contest
Oct. 25 9 AM - 11:30 AM
RVC Rec Ctr 678-9238
Halloween Ragamuffin Parade
Oct. 26 2 PM Parking Field #12
Proceeds to Rec Ctr 678-9238
Spooky Fest at Tanglewood
Preserve 10/24-26 and 10/31-11/2
Info. 764-0045
RVC 10K, 5K and 1K Races
November 8 10 AM/9 AM
Fee/Info. 678-9238
The Tommy Brull Foundation
7th Annual Fundraiser Nov. 8
Cannon's Info. 516-665-2238
An Italian Evening with
Author Ann Hood - Nov. 14 7 PM
RVC Library Info/$ call 766-6257
Welcome to our newly redesigned website!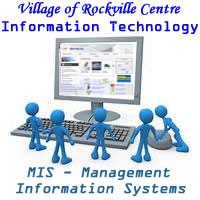 Mayor Francis X. Murray and the Village of Rockville Centre Information Technology Department would like to welcome you to our newly redisigned website! We hope that you find your experience with it both user friendly and enjoyable. Some of our new features include:
Compatibility across most smart-phones and mobile devices with the latest browser technology.
A more modern user-friendly navigation and easier access to information and essential resources.
A new homepage with the most current Village of Rockville Centre content.