SWIFT 911 Emergency
Notifications to add or update
your cell, work, . . .
unlisted phone number, and
email to Village's automatic
notification system . . .
Access Village Website
www.rvcny.us

TO REPORT POLICE and MEDICAL
EMERGENCY
CALL 911
TO REPORT
NON - EMERGENCY POLICE MATTER
CALL 516-766-1500
TO REPORT
ELECTRIC OUTAGE
CALL 516-766-5800
FREE Homework Assistance
Grades 1-5 Monday - Wednesday
RVC Library 3:30 PM - 5:30 PM
"The Diary of Anne Frank"
Nov. 19 and 22 7:30 PM
SSHS 255-8925
Craft Fair at Sandel Senior Ctr
Nov. 21 10 AM - 4 PM
50 So. Park Avenue
Thanksgiving Interfaith Service
Nov. 25 7:30 PM Holy Trinity
Church, 240 Lincoln Avenue
Raymar Children Fund Holiday
Craft Fair Dec. 6 10 AM - 4 PM
Covert School 255-8916
St. Mark's Nursery School
OPEN HOUSE Nov. 18 and 19
Info. 536-6295 200 Hempstead Ave
RVC Democratic Club Meeting
Nov. 20 7:30 PM SSHS
Public Invited to Attend
Breakfast with Santa's Helpers
Dec. 14 RVC Recreation Center
Info./Fee 678-9238
RVC Neighborhood Watch Meeting
Monday, Nov. 24th 7:00 PM
Rockville Centre Village Hall
RVC Youth Council HS Teen Dinner
Dec. 12 9:30 PM - Midnight
Nick's Pizza 516-659-4026
Holiday Free Metered Parking
Saturday ONLY Nov 29-Dec. 28
Abide ALL Other Regulations
78th Annual Mercy Ball Dec. 6
6:30 PM Crest Hollow Country
Club, Woodbury 516-705-2618
RVC Schools' Winter Ace Program
Ongoing Registration Gr. K-8
www.rvcschools.org
Swingtime Big Band
Home 4 The Holidays - Dec. 7
3 PM Madison Theatre 323-4444
Madison Theatre Christmas
Dec. 6 8 PM Madison Theatre
Molloy College 516-323-4444
Welcome to our newly redesigned website!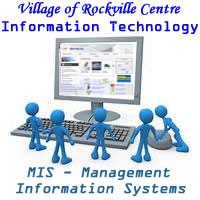 Mayor Francis X. Murray and the Village of Rockville Centre Information Technology Department would like to welcome you to our newly redisigned website! We hope that you find your experience with it both user friendly and enjoyable. Some of our new features include:
Compatibility across most smart-phones and mobile devices with the latest browser technology.
A more modern user-friendly navigation and easier access to information and essential resources.
A new homepage with the most current Village of Rockville Centre content.