SWIFT 911 Emergency
Notifications to add or update
your cell, work, . . .
unlisted phone number, and
email to Village's automatic
notification system . . .
Access Village Website
www.rvcny.us

TO REPORT POLICE and MEDICAL
EMERGENCY
CALL 911
TO REPORT
NON - EMERGENCY POLICE MATTER
CALL 516-766-1500
TO REPORT
ELECTRIC OUTAGE
CALL 516-766-5800
FREE Homework Assistance
Grades 1-5 Monday - Wednesday
RVC Library 3:30 PM - 5:30 PM
RVC Schools' Winter Ace Program
Ongoing Registration Gr. K-8
www.rvcschools.org
RVC Public Schools Kindergarten
Registration Jan.12-16, 2015
SSHS Room 105 Info. 255-8926
Black History Month/RVC Museum
Artist George C. Burgess 1-4 PM
Sat.and Sun.Jan/Feb.28 Hemp.Ave
St. Agnes Knights of Columbus
Free Throw Jan. 19 2 PM
Msgr. Melton Gym, Clinton Ave
2015 St. Agnes Gala Ball
Feb. 7 7 PM Garden City Hotel
For Info. call...516-594-1357
RVC MARGARITAVILLE Fundraiser
Honoring FRONT STREET BAKERY
Jan. 31 Info. 516-678-9260
SSHS Booster Bash Sat. Jan. 24
7:30 PM -11:30 PM Best Western
Info. kandkbohn@verizon.net
Substance Prevention Coalition
Kick-Off Meeting Jan. 26
7 PM RVC Library
ACDS Annual St.Pat's Celebration
March 7 6:30 PM - 11 PM
Parish Ctr 516-933-4700 X203/124
Eddie Money The Musical
Jan. 16,17,24,25 Molloy College
Madison Theatre 516-323-4444
Tribute to Earth, Wind and Fire
Jan. 31 8 PM Molloy College
Madison Theatre 516-323-4444
History of American Rock and Roll
Feb. 7 8 PM Molloy College
Madison Theatre 516-232-4444
Welcome to our newly redesigned website!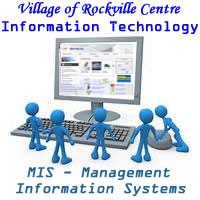 Mayor Francis X. Murray and the Village of Rockville Centre Information Technology Department would like to welcome you to our newly redesigned website! We hope that you find your experience with it both user friendly and enjoyable. Some of our new features include:
Compatibility across most smart-phones and mobile devices with the latest browser technology.
A more modern user-friendly navigation and easier access to information and essential resources.
A new homepage with the most current Village of Rockville Centre content.