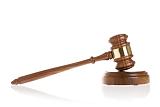 Village Justice Court
Rockville Centre has one of the busiest village courts in the state, handling more than 30,000 cases annually. The court has jurisdiction over the enforcement of local laws, including parking tickets and zoning code violations, and New York State vehicle and traffic offenses committed within the Village boundaries.
William J. Croutier, Jr., and Kevin P. McDonough, two practicing attorneys, are the elected justices.

Attorneys serve as deputies to the Village Attorney to prosecute cases in Village Court. The deputies are: Susan Boland, F. Scott Carrigan, Christine Gray Ferazani, Joseph A. Gentile, Kevin Glynn, Charles Lapp III, Jennifer Milone, Mindy Roman, David Shargel, and Alan Stein.
Court is in session on the first Tuesday evening of each month and Thursday evenings by appointment at Village Hall. The Court Clerk's office is open weekdays 8 A.M. to 3:30 P.M. to accept payment of fines and to provide information about cases. Phone: 678-9289.
Click here for directions to village hall.

To pay your Parking of Traffic tickets online - click here.
Parking Tickets
To pay in person - The Village Court is located at: Village Hall, 1 College Place, Rockville Centre, N.Y. 2nd floor (Court). Office Hours: Monday thru Friday 8:00am - 3:30pm Acceptable forms of payment: Cash, Money Order, Check or Credit Card-Visa/Mastercard.

To pay by mail - Money Order or Check payable to Village Court of Rockville Centre Mail to: Village Court, 1 College Place, Rockville Centre, N.Y. 11570-4116 Include your plate number on all correspondence.

Parking tickets can also be paid online at rvcny.us .

If you are requesting information regarding Traffic Violations, Appearance tickets or Village Ordinance Violations, please contact the Court at 678-9289.


Judge William J. Croutier, Jr.

Judge Croutier was elected to his first term on the Court in 2007. He is a senior partner in a law firm and a member of numerous professional associations. He served as the chairman of both the Rockville Centre We Care September 11th Committee and the Rockville Centre September 11th Memorial Committee.

Judge McDonough was elected to his first term on the Court in 2009. He is a partner in a Garden City law firm. He was a Deputy Village Attorney for nine years, served on the Village Planning Board and is president of the Friends of Senior Services which aids the Sandel Senior Center. He is a volunteer counsel to the RVC St. Patrick's Parade and has coached in local sports leagues.